What is a Rhinoplasty? (Nose Job)
Rhinoplasty, or a "nose job," is the surgical alteration of the nose to change its shape or improve its function. Through rhinoplasty, you can finally have the nose you've always wanted. During the operation, a plastic surgeon can reshape the nose to suit your needs, from eliminating humps to narrowing or increasing its size. To give the nose a natural appearance, the procedure often includes several parts of the nose, such as the tip, profile and width. This helps to ensure that the end result remains balanced and harmonious with the rest of the facial features.
A rhinoplasty procedure is particularly beneficial for a patient who wants to:
Improve the size, shape, and overall appearance of a nose.
Improve a droopy or enlarged nasal tip
Fix an off-center or crooked nose
Alter large, wide, or upturned nostrils
Reduce visible bump on the nasal bridge, or an asymmetrical nose.
Correct a nose disfigurement that has occurred because of a previous injury or birth defect.
Correct a deviated septum or a nose-related breathing problem.
The overall goal of a nose job is to correct the proportion of the nose in order to create facial balance and solve any nasal breathing concerns. Instead of drastically changing an individual's appearance, nose surgery enhances natural beauty. As a result, Dr. Beaty and Dr. Nagy's patients often benefit from improved confidence and self-esteem.
Rhinoplasty Before and After Photos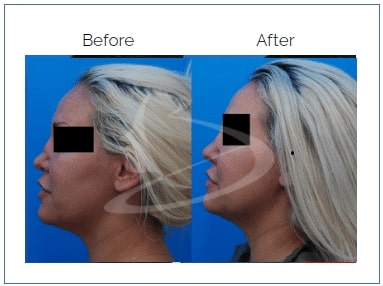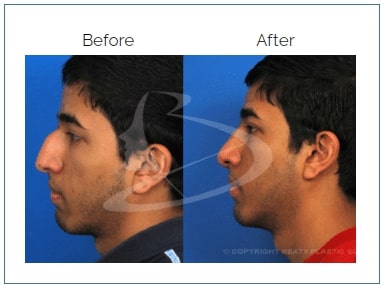 Candidates for a Nose Job
Healthy patients who are looking to improve the appearance or function of their nose are usually the ideal candidates for rhinoplasty. Since nose surgery should only be performed on patients with a fully developed nose, patients should be at least 15 years old.
All rhinoplasty candidates must also have a positive attitude and realistic expectations of surgical results. It's important to note that individuals with bleeding disorders such as hemophilia are not good candidates for this procedure.
All candidates interested in rhinoplasty will meet with Dr. Beaty or Dr. Nagy for an initial consultation. This consultation will consist of a discussion of the patient's medical history, the motivation for the surgery, and expectations.
To eliminate any guesswork, our surgeons use visual imaging software to modify the patient's photograph during the consultation, performing a virtual Rhinoplasty. By giving them a glimpse of the future, patients can see for themselves if the desired changes will create the anticipated result. This leaves them with plenty of time to make adjustments before going under the knife. These photos are also useful during post-surgery evaluations and used for reference during the procedure.
" Dr. Nagy transformed my botched rhinoplasty into the elegant nose I always wanted! For over seven years I felt frustrated and dismayed when looking in the mirror. After my first rhinoplasty, my nose was still too big and unshapely. Even though I chose a well-known facial plastic surgeon, he completed the surgery without pushing my nasal bones back together, leaving me with a wide gap at the top of my nose. When Dr. Nagy pulled up the 3D imaging of what she proposed, she solidified my belief that I could finally have the nose I wanted and I booked the soonest available surgery date. I was so encouraged, I even elected to have her remove the excess skin from my upper eyelids. On surgery day I was nervous, but her presence in the pre-op room again reinforced I'd made the right decision: At the big reveal, she held the mirror up and I couldn't stop myself from grinning. "I FINALLY have the cute, natural nose of my dreams!" The adjustments to both my nose and eyes made me look five years younger and I'm thrilled! Reflecting on my experience with Dr. Nagy and her team, I recognize they did a phenomenal job making my journey the best it could be from consultation to after-care to monitoring my results. There are several seasoned facial plastic surgeons in Atlanta, but Dr. Nagy truly stands out amongst the best-of-the-best. Please take my recommendation and consult with Dr. Nagy for ANY facial surgeries you're considering and join me as another one of her happy patients! "
Preparing for Nose Surgery
Prior to the surgery, patients must:
Stop smoking for at least six weeks prior to the procedure.
Avoid taking anti-inflammatory drugs and aspirin.
Stay hydrated.
Avoid alcohol for five days before surgery.
Make special arrangements for the day of the rhinoplasty surgery. A friend or family member should drive the patient home and stay with him or her for a few nights following the surgery to assist with personal care tasks during recovery.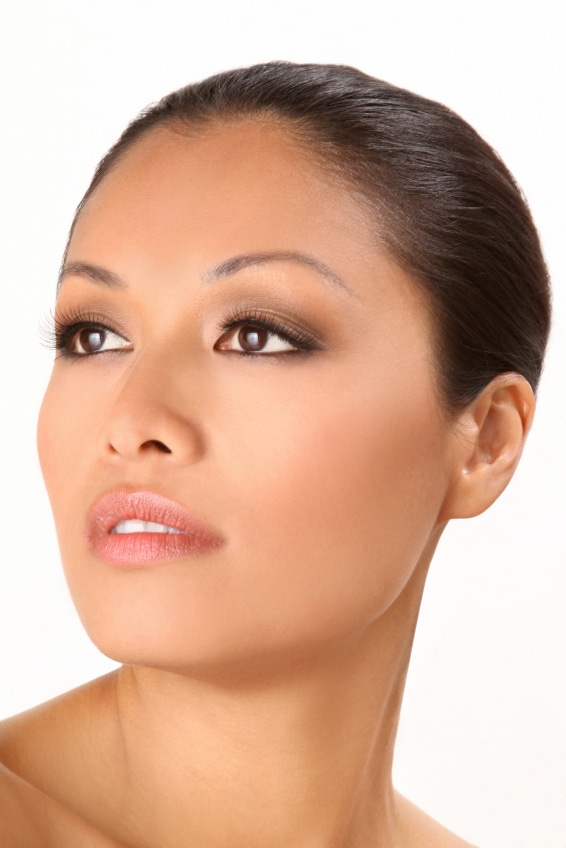 A nose procedure typically lasts one to three hours, but may take longer in certain situations. Depending on the patient's individual needs and desired results, Dr. Beaty or Dr. Nagy will perform either an open or closed procedure. Although the wide range of possible corrections makes it difficult to provide procedural details, our sugeons perform most rhinoplasty surgeries with the use of general anesthesia.
Rhinoplasty results are permanent. Therefore, it's crucial to understand what type of results can be expected prior to the procedure. Dr. Beaty and Dr. Nagy's rhinoplasty patients often experience life changing results and a renewed sense of self confidence.
Nose Job Patient Testimonial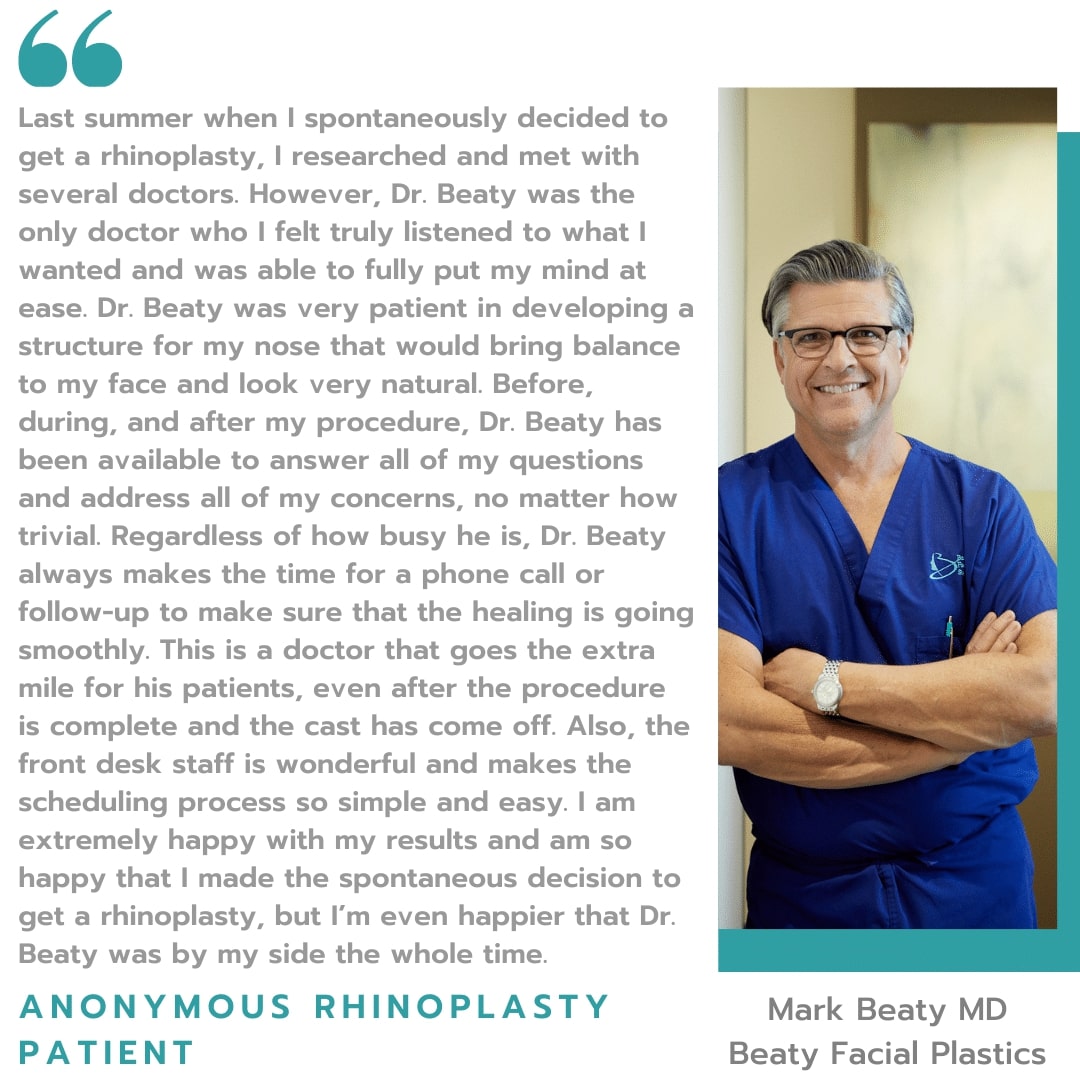 What is a Non-Surgical Rhinoplasty?
A non-surgical nose job may be an option for patients not yet ready to commit to a surgical procedure. Non-surgical rhinoplasty is done by using injectable fillers to reshape the nose or smooth a bump. Not all imperfections can be corrected through non-surgical rhinoplasty as a nose cannot be made smaller without a surgical procedure.
Injectable Rhinoplasty Treatment
Surgical Rhinoplasty Recovery
In order to protect the nose during the initial phase of healing, patients wear a splint for one week after the operation. The splint will be removed within 7-10 days following the surgery. Nasal packing is not necessary for most rhinoplasty procedures. Although patients can expect some bruising and swelling around the eye area, these symptoms typically resolve themselves within 2 weeks. Patients may notice subtle changes in the shape of the nose, particularly at the nasal tip, over the next 12-18 months.
After the surgery, most patients return to their normal activities within a week or two. Patients are encouraged to avoid strenuous activities for several weeks after the surgery but may resume lighter activities after a few days. Additionally, patients should not wear glasses without proper support to keep pressure off of the nose for a few months.
Restrictions After Nose Surgery
While you will be able to resume normal activities about a week after surgery, you will have to protect your nose while it heals by observing the following directives during the post-operative period:
Avoid blowing your nose
Avoid strenuous activities
Take baths instead of showers
Brush your teeth gently
Limit dietary sodium
Avoid pulling clothing over your head
Use sunscreen of SPF 30 or higher
Do not use ice packs
Avoid making exaggerated facial expressions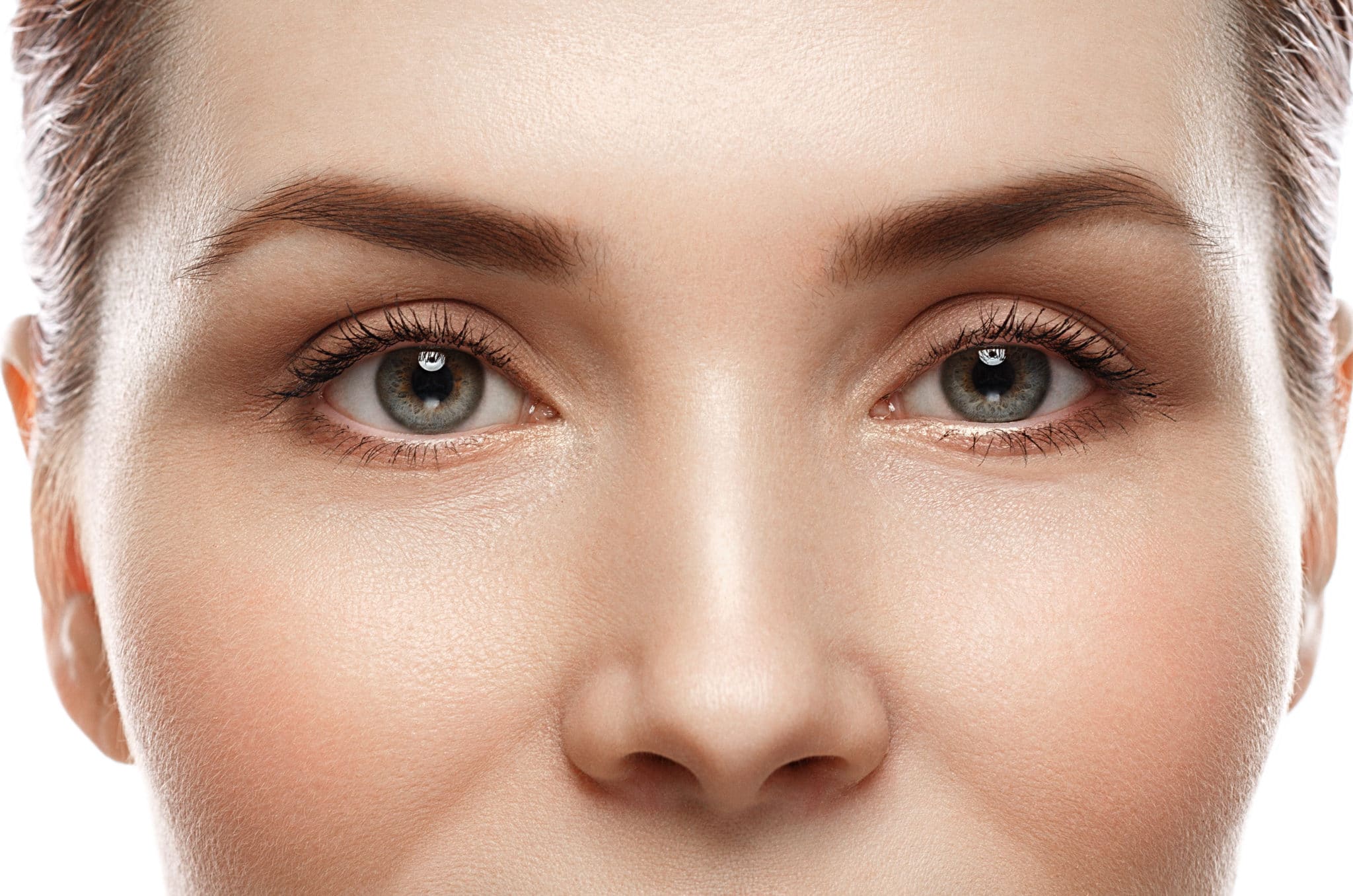 Is Rhinoplasty covered by insurance?
Similar to most cosmetic surgeries, rhinoplasty is not typically covered by most insurance plans. However, insurance coverage may be available if portions of the procedure are necessary for medical reasons, such as a deviated septum.
Complications from a rhinoplasty are rare and when they do occur, usually minor. These may include infection, nosebleed, or a reaction to the anesthesia. Some few patients may experience recurring nosebleed or numbness in or around the nose. On rare occasions, the nasal septum may be perforated, but this can be repaired. In general, a rhinoplasty is considered a very safe surgical procedure.
Call Us Today
+1 (770) 273-0037
Our providers specialize in non-surgical procedures, facial plastic surgery options, and more.
If you would like to learn more about our services, please contact us to speak with one of our experts.