Profound Procedure: The Results of Surgery, Without the Surgery!
Are you looking for younger, fuller skin? Maybe you have wrinkles you'd love to see disappear? Maybe you're self-conscious about an area of cellulite? A revolutionary new energy-based treatment, known as Profound, can produce lifted, smoothed, contoured skin without a surgical procedure. Learn more about this wonderful technology from Beaty Facial Plastic Surgery in metro Atlanta.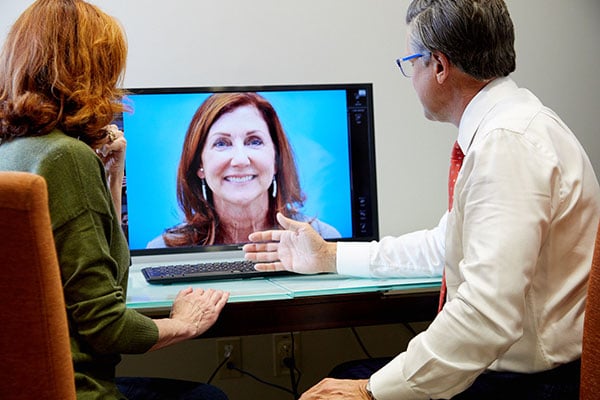 The Profound procedure utilizes a radiofrequency device to help rejuvenate and revitalize the skin at deeper levels, awakening the body's natural healing process. The Profound device targets the production of three naturally-occurring skin components– collagen, elastin and hyaluronic acid. These three elements create volume and firmness to the skin. Starting in our mid-20's, elastin starts to break down and the skin begins to sag and wrinkle.
What are the benefits of Profound?
Profound stimulates the natural reproduction of collagen, elastin, and hyaluronic acid to revitalize the skin and build new, healthy tissue. This procedure tightens the skin of the jowls and neck and adds volume to the cheeks for a more youthful look. When combating the appearance of cellulite, the same components are reproduced naturally and create a smoother skin surface without the dimples we see when cellulite is present.
Dr. Laura Beaty shared the benefits of Profound with Modern Luxury. You can read the story here.
Non-surgical Facelift Candidates
The ideal candidates for Profound are people who are seeking to reduce the signs of aging, improve skin laxity, and combat cellulite. Beaty Facial Plastic Surgery offers consultations at convenient times to accommodate our patients' busy lifestyles.
Can Profound be used in other areas of the body?
Profound can be used for skin tightening on multiple areas of the body, as well as for the treatment of cellulite and hyperhidrosis.
Profound for Skin Tightening of the Body
Abdomen: Treatment of mild to moderate laxity of abdominal skin, often after fat reduction. Dr. Beaty and his team use Profound in combination with CoolSculpting to both contour and tighten the abdomen. Stretch marks of the abdomen may also be improved.
Decollete: many women develop fine lines or stria in the decollete. Profound improves the appearance of this area by tightening and thickening the skin, making the lines less apparent.
Above the knees: Dr. Beaty uses Profound to tighten loose skin above the knees which may cause unsightly skin folds
Dr. Laura Beaty Featured In JEZEBEL Magazine!

Dr. Laura Beaty was featured in an article in JEZEBEL Magazine discussing Microneedling Treatment with Profound RF and how the procedure provides an impressive alternative to the face-lift. To view the article, click here!
Cellulite Treatment with Profound
Profound is the most promising treatment for cellulite we have seen in our practice. Cellulite is a notoriously difficult problem to control, resulting in uneven, lumpy appearance in the thighs and bottom. Cellulite involves both excessive fatty tissue under the skin and fibrous bands tethering the skin to underlying tissues. This results in the characteristic lumpy appearance. To treat cellulite we must both eliminate the fatty tufts and allow the skin to adhere evenly to the underlying tissues. Profound uses radiofrequency energy to eliminate fat and create adherence, preventing recurrence of the fat tufts and providing long-lasting results from a single session.
Profound for Treatment of Hyperhidrosis
Profound uses radiofrequency energy to reduce the number of sweat glands in targeted areas, most frequently under the arms. The advantage over other treatments is the permanence of results. Sweat reduction is apparent from the first treatment through multiple treatments are usually needed for best results.
What our patients have to say
"I live in Tulsa and traveled all the way to Atlanta to visit Dr Beaty. My first point of contact was Angela the receptionist she is so welcoming and helpful she made my whole experience really nice. I then proceeded to have Profound with Dr. Beaty he was very approachable and made me feel totally at ease. The whole procedure took a good few hours he made sure I was completely numb and comfortable and so far it's been 3 months and my face looks great! I'm going back to have my tummy area done. I would definitely recommend Dr. Beaty he is so professional and very easy to talk to!" - Julie C
Reduce Wrinkles with Profound
How long does a Profound Treatment take?
Does Profound Non-Surgical Facelifts hurt?
Dr. Beaty will provide a local anesthetic to manage comfort. The system delivers precise temperature treatments to deeper skin layers, exactly where the energy is being most beneficial.
Listen to Dr. Beaty's Podcast on Profound and Ultherapy here.
Is Profound better than a Facelift?
It is important to know that Profound is not meant to replace a surgical facelift. We are targeting the lines and wrinkles in a different way than we do with surgery. It is best to think of this as a way to provide skin tightening and not a change to the facial anatomy. Profound can be described as a non-surgical facelift alternative for those who do not need or are not ready for a full facelift.
Is there downtime with the Non-Invasive FaceLift?
Because the body is working to stimulate a natural healing process, the procedure may cause slight swelling or redness at the treatment site. There may also be slight bruising. These side effects should last no longer than a week.
Will I be able to drive myself home after the treatment?
We apply topical numbing cream and injection numbing, so yes you can drive yourself to and from your treatment. However, some patients may require an additional prescription to make them more comfortable. These patients will need to arrange transportation with a friend, family member, or someone they are comfortable with for after.
Profound Treatment Results*
A profound procedure is usually done in one single treatment. This treatment had a 100% response rate with wrinkles and a 95% response rate for skin laxity in clinical trials.
How long after my Non-Surgical Facelift will I see results?
Results typically begin to show two weeks after the procedure, but most people see maximum results between three and nine months after the procedure.
How much does this Facelift alternative cost?
Each patient will receive a quote at the end of their consultation which outlines the cost for their specific treatment. The treatment starts at $3000.
Why choose Beaty Facial Plastic Surgery for your profound procedure?
Beaty Facial Plastic surgery was the first practice to acquire and provide Profound RF treatment in the Atlanta area. Beaty Facial Plastic Surgery remains the leading Profound practice in metro Atlanta.
Dr. Mark Beaty and Beaty FPS are an accredited and frequent training site for Profound. Dr. Mark Beaty recently authored an internal white paper for Candela Corp. discussing the use of Profound as part of powerful multimodality non-surgical therapies for the purpose of training Candela sales representatives in these concepts. He has been a featured on a MedEsthetics podcast addressing the use of Profound for treatment of the aging neck. Beaty Facial Plastic Surgery is a leader in the development of new protocols for Profound treatments including use for cellulite and body skin tightening.
*individual results may vary
Schedule a Consultation Today!
Our provider specialize in non-surgical procedures, facial plastic surgery options and more.
If you would like to learn more about our services, please contact us to speak with one of our experts.