Qwo (collagenase clostridium histolyticum) is the first and only FDA-approved injectable for the reversal of cellulite of the buttocks. The treatment enzymatically breaks down the fibrous collagen bands that cause cellulite dimpling.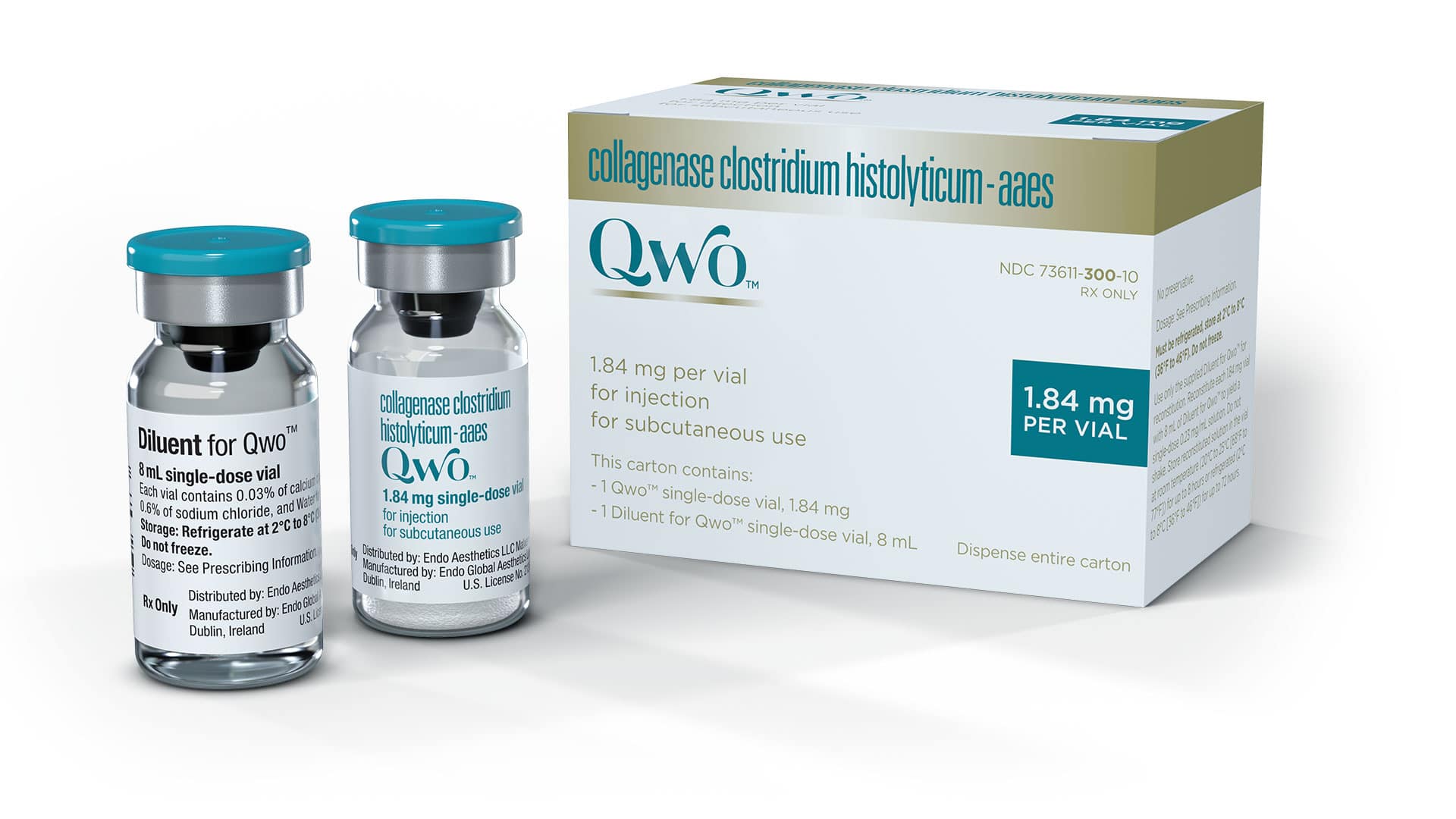 Qwo is administered by a series of injections into the dimples with a very small needle. A full treatment involves three appointments for injections three weeks apart.
What are the side effects?
Bruising and tenderness will be present after each treatment. The amount of bruising is most severe after the first treatment. There is no downtime. You can exercise the very same day you receive treatment.
You will see results after your first visit, but full results are appreciated two weeks following your final treatment. So, full results are present within two months!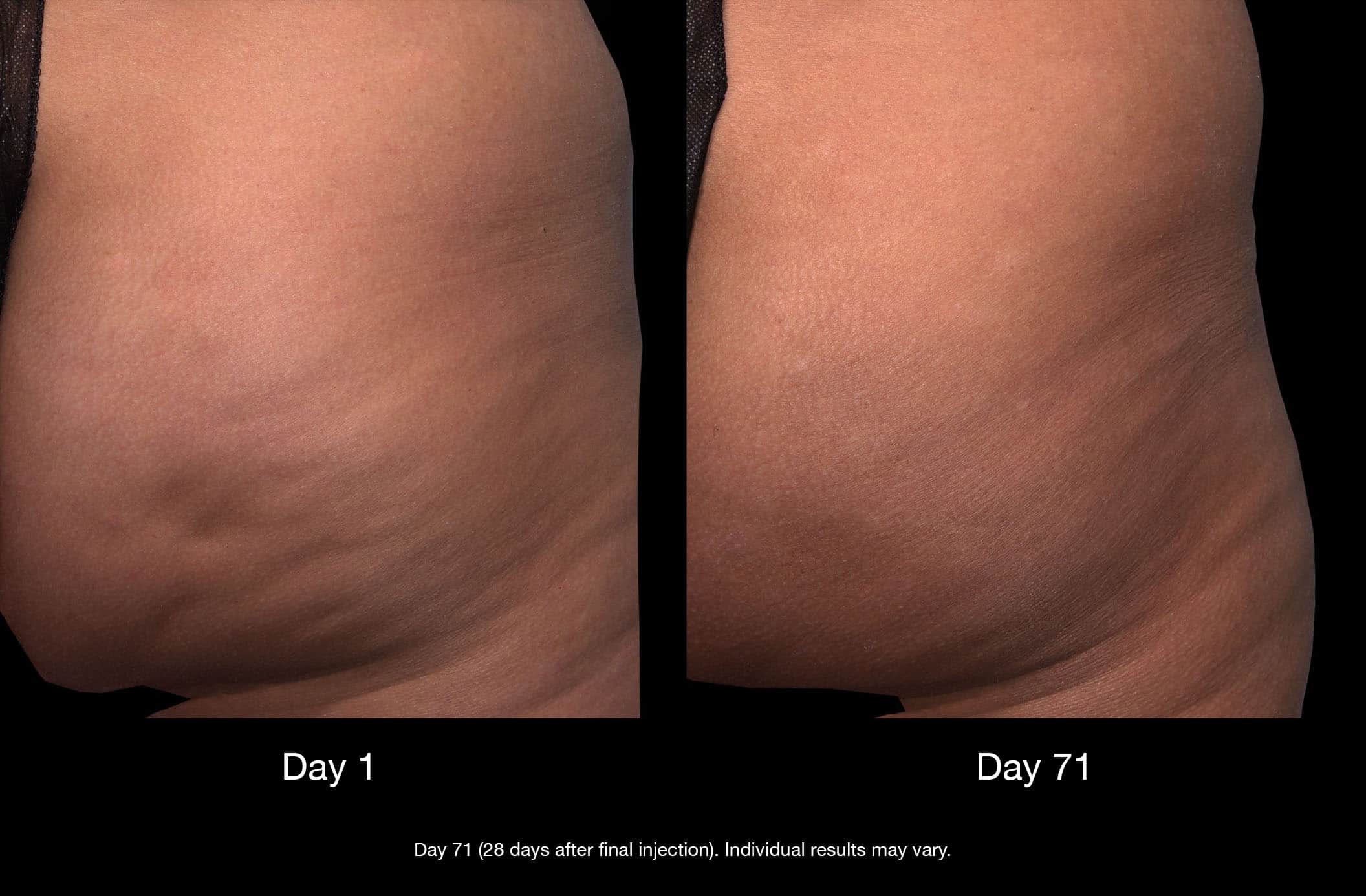 Can it be combined with other procedures?
Absolutely and we plan to do that often. Our practice offers CoolSculpting to reduce bulky fat, Profound to tighten skin and Qwo to release the tethers of cellulite.
Who is a good candidate for Qwo treatments?
After examining your cellulite, Dr. Mark Beaty, Dr. Laura Beaty, Dr. Nagy, or Gary Washington, NP will ascertain if they believe QWO® is a good treatment for you. To gain FDA approval, Endo Aesthetics (the makers of QWO®) had to prove that QWO® showed a two-point improvement in cellulite severity. QWO® was tested in clinical trials with women of all ethnicities and skin tones. In most cases, if you have moderate to severe cellulite on your buttocks, odds are you'd be a good candidate for these exciting new treatments.
What areas can be treated with Qwo?
QWO® has received FDA approval for use only on the buttocks at this time.
What are the advantages of the Qwo Injectable Treatment?
Cellulite is the bane of virtually every woman — 90 percent of women show some signs of cellulite on their thighs and backside during their lives. There are plenty of salves and creams that claim to improve cellulite, but they do little, if anything.
There are also two aesthetic treatments, Cellfina and Cellulaze. They work to separate the fibrous connective bands manually, either with a scalpel or with laser energy. But they have only shown to have limited effectiveness.
QWO® is FDA approved and had to show real results to gain that approval.
How long can I expect my results to last with Qwo?
QWO® is made from collagenase clostridium histolyticum. It smooths dimpling on the buttocks from cellulite by releasing the septae, the collagen bands that tether the skin to the muscle. As fat is deposited between the skin and the muscle, the telltale dimples of cellulite form due to the septae tightening the skin to the muscle between the pockets of fat.
QWO® loosens the septae chemically. These are thought to be permanent changes in the connective bands creating the dimpling, but QWO® is a new product, so there are not any long-term studies to know if the septae tighten again or not. Initial data supports longevity of at least a few years for the improved appearance of the patient's cellulite.
Will I experience bruising after my Qwo Injections?
You will have bruising, as you do with any injection. QWO® is injected with a very thin, small needle, which minimizes bruising. But you can expect to have some. This tends to decrease with subsequent sessions (remember QWO® is a three-session protocol).
Is it safe to go in the sun after getting Qwo?
Patients need to avoid excessive sun exposure during their duration of the QWO® treatment. This should extend for two months after the final treatment session. Sun exposure on the treated areas can cause post-inflammatory hyperpigmentation.
Is Qwo approved by the FDA?
Yes, the FDA approved QWO® in July 2020 for use treating cellulite on the buttocks.
Call Us Today
+1 (770) 273-0037
Our providers specialize in non-surgical procedures, facial plastic surgery options and more.
If you would like to learn more about our services, please contact us to speak with one of our experts.