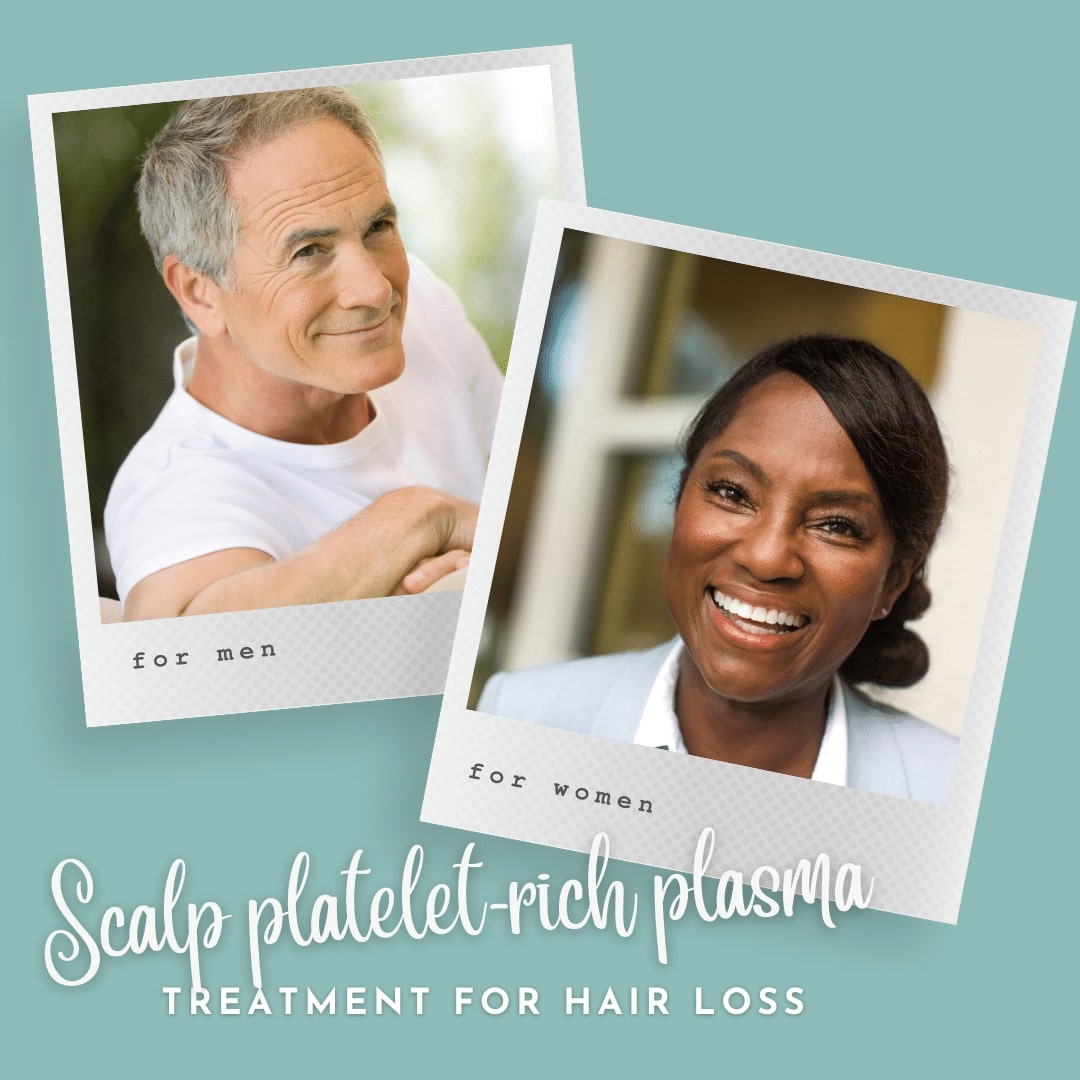 Is Hair Loss a common problem?
Yes, 80% of men and women will experience significant hair thinning by the age of sixty. Gradual thinning is the most common type of hair loss, affecting people as they age. In men, hair often begins to recede at the hairline on the forehead while women typically have a broadening of the part in their hair and diffuse thinning.
Hair thinning and hair loss can be caused by multiple factors. Androgenic alopecia is the most common cause of male pattern baldness. This is caused by hormone changes and oftentimes genetics. Androgenic alopecia and (frontal fibrosing alopecia are the most common reasons for hair thinning in women. Hair loss in women can also be affected by pregnancy, menopause, thyroid hormone fluctuations and stress. A medical history and possibly lab work are an important part of your evaluation for hair thinning and loss.
What can you do to promote hair growth and prevent further loss?
Even though hair loss is an inevitable part of aging for most individuals, you can fight back. The platelet-rich plasma (PRP) treatment of the scalp uses your own blood cells to accelerate hair growth and thickening. PRP contains a number of stem cells and regenerative enzymes to stimulate your hair follicles for both growth and thickening. We use a high concentration of platelet-rich plasma both injected and microneedled into the scalp to achieve optimal results. The microneedling component also provides a treatment that initiates new collagen formation in the scalp.
What is the recommended number of scalp PRP treatments?
Our protocol involves an initial treatment of 4 scalp PRP sessions separated by six weeks followed by a maintenance treatment every six months. Our providers may also recommend vitamins, over-the-counter medications such as minoxidil, or prescriptions to maximize your results.
When should I start treatments?
It is recommended that you start with a basic evaluation as soon as you notice an abnormal amount of hair loss. If it is deemed PRP can benefit, you can schedule your first session and start right away.
What is the initial process?
If you've had a previous hair loss evaluation, we ask you to bring your prior lab results. We offer an initial evaluation with lab work and recommendations to maximize your hair growth in addition to scalp platelet-rich plasma (PRP) treatments.
What is Platelet-Rich Plasma (PRP)?
PRP is using your own blood and concentrating the growth factors and platelets into a small amount of your plasma to reinject into the areas of most need. Lower concentrated PRP along with peptides then used to microneedle remaining areas to promote growth and strength for the hair.
How long do treatments take?
Our scalp treatment sessions take approximately one hour. We use anesthetic injections and/or Pro-Nox to minimize the minor discomfort associated with the injections and microneedling.
There is no downtime. You can return to work right after a procedure. You will have some swelling and minor discomfort lasting for a few days after your session.
Hair Restoration Before and After Photos