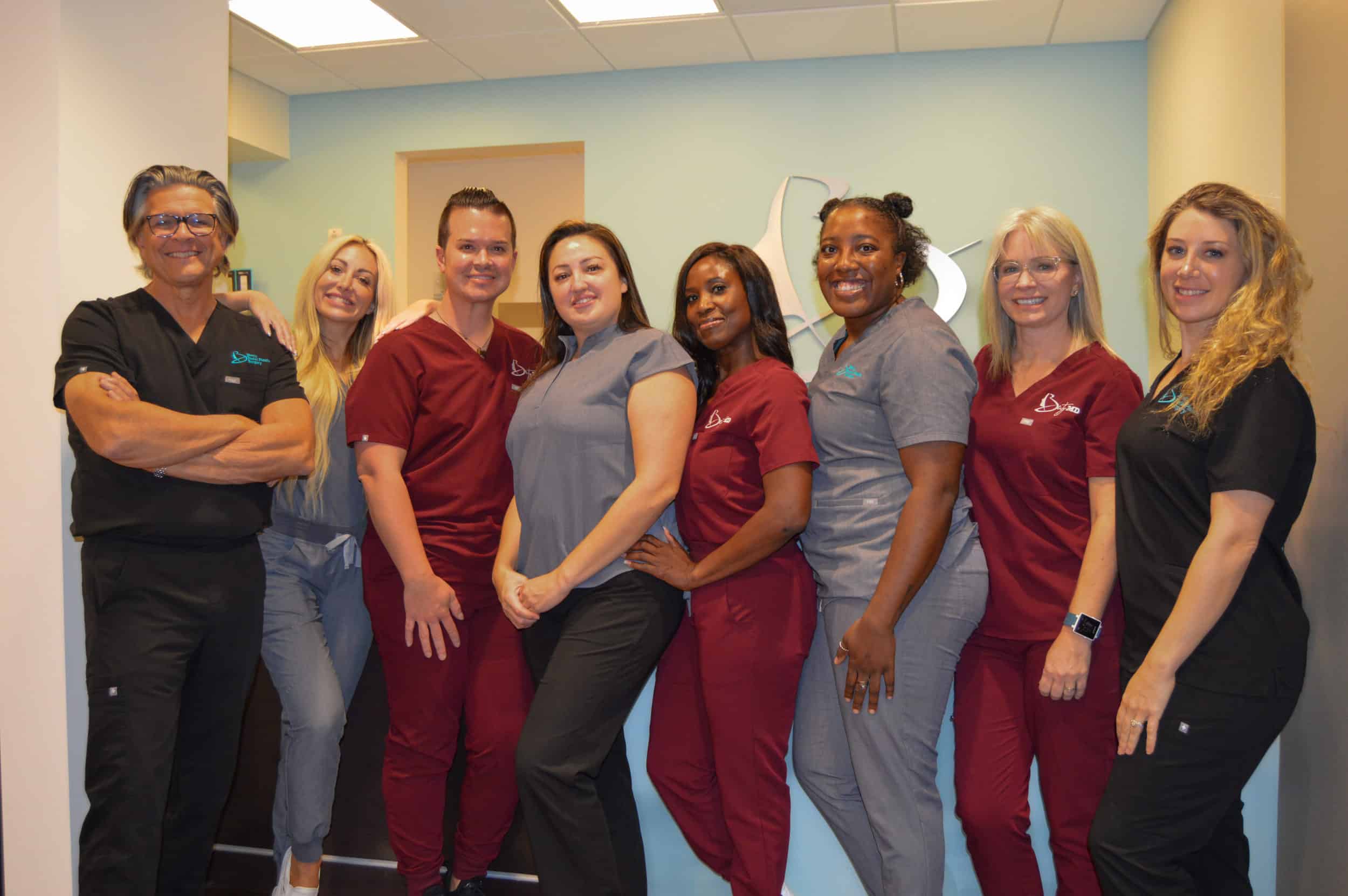 View patient testimonials from top plastic surgeons Dr. Mark Beaty and Dr. Celeste Nagy, along with the team at Beaty Facial Plastic Surgery in metro Atlanta. Individual results may vary!
We appreciate and value all feedback on our services. See what people are saying about us:
Beaty Facial Plastic Surgery is rated 5 out of 5.0 based on 43 ratings.
Mid-forties man with those irritating love handles and excess mid-section weight. After two rounds of CoolSculpting (and no weight lost or other dietary changes) the extra fat around the midsection is greatly reduced. A great decision and investment. You choose: One million sit-ups, or two hours with Dr. Beaty's Staff.
I am doing FANTASTIC after my surgery. I am completely amazed by everything. I had hardly ANY bruising at all, my nose looks absolutely PERFECT and I can already feel that both nostrils are open! It is absolutely amazing. I never expected to look and feel this good this fast. Every one of the staff at BFPS contributes to an amazing level of service and I just keep thinking how grateful I am for all of you and for Dr. Beaty. You guys are outstanding at what you do. You made the choice to go with BFPS for my surgery an easy one!
This was both a cosmetic and functional procedure to fix a broken nose from soccer. I was able to get everything done at one time. Dr. Beaty and his staff were professional and caring. They answered all my questions as I came up with them, and provided photos of similar procedures/results to help me envision what my results might be. Dr. Beaty calmed my concerns that my procedure might be too difficult. I'm one week out and amazed with my results already. I would recommend him to anyone considering a rhinoplasty, septoplasty, basically anything internally and externally pertaining to fixing your nose.
My sinus surgery and skin resurfacing was over four months ago, so I feel completely healed and have no "after-effects." There were no problems during my first few weeks of getting back to normal and now, I'm just enjoying the benefits of clear open nasal and sinus passages along with being rid of the old, dead and wrinkled skin that, according to my dermatologist was contributing to poor health. That's right, having spent my younger years unprotected in the powerful rays down in Florida, my skin was both burned and damaged even to the point of some cancerous lesions showing up on the forehead and face. Though they were small, I'm not mourning their loss. Now, with my pores open and healthy, I'm very glad to have the Beaty staff's guidance helping me stay that way. Just a little sunblock goes a long way and the correct nasal spray keeps me breathing freely to enjoy the outdoors from now on.
Just had a face lift w/Dr. Beaty and I couldn't be more happy with the results! I live out of state and I just didn't want anyone else to do my surgery. I've been seeing Dr. Beaty for facial injections for over a year and both he and his staff are excellent!
I have had a great experience with Dr. Mark Beaty, his wife, Dr. Laura Beaty, and their entire staff! They are all so warm and friendly. Dr. Beaty did a fabulous job on my Prolift, upper and lower eyes, and laser resurfacing. Dr. Laura Beaty even held my hand while Dr. Mark Beaty did my laser resurfacing. They are the sweetest couple! They both do excellent work! I highly recommend Beaty Facial Plastic Surgery!! Excellent work and very professional!!
Dr. Beaty and his team are incredible! Dr. Beaty's specialized skill and expertise set him apart from other facial surgeons. My surgery results far exceeded my expectations! I absolutely love my results! I am so grateful for Dr. Beaty's immense knowledge and talent! Dr. Beaty and Beaty Facial Plastic Surgery staff go above and beyond the call of duty. They genuinely care for every patient and listen to every concern. Everyone is always so sweet and so kind! Compassionate care and high-quality medical treatments are their top priorities! The office staff create a friendly and comfortable environment and provide exceptional service! I highly recommend Dr. Beaty and his team to anyone who wants to enhance their beauty! Beaty Facial Plastic Surgery is truly the best of the best!
I live in Tulsa and traveled all the way to Atlanta to visit Dr Beaty. My first point of contact was Angela the receptionist she is so welcoming and helpful she made my whole experience really nice. I then proceeded to have Profound with Dr. Beaty he was very approachable and made me feel totally at ease. The whole procedure took a good few hours he made sure I was completely numb and comfortable and so far it's been 3 months and my face looks great! I'm going back to have my tummy area done. I would definitely recommend Dr. Beaty he is so professional and very easy to talk to!
The microneeding at Beaty Facial Plastic Surgery with Shawndelle is amazing. The staff are really friendly, the procedures are well explained, and the results are incredible. Cannot recommend Drs Beaty and staff enough! Happy repeat customer."
Working with Dr. Laura Beaty has been both educational and effective. Learning about my body composition and genetic makeup changed decisions I make daily. Adding Prolon was icing on the cake. I now know I can execute a 5-day, 10-pound loss and get myself back on track or give myself a boost anytime. In addition, Dr Beaty is matter of fact and not judgmental in the slightest. I was comfortable from the minute I walked in the door.